WELCOME TO NANNING DIHUI PAPER PROCUCTS CO., LTD.
Nanning Dihui Paper Products Co.,Ltd. was established in 2012, located in Nanning city, Guangxi Province where is rich in sugarcane materials and wood pulp materials and bamboo material. With 10 years development, Dihui Paper has become one of the leading manufacturers of PE coated paper rolls, PE coated bottom paper rolls, paper cup fans, PE coated paper sheet, paper cups and paper bowls in South China.
Dihui Paper's base paper thickness is from 150gsm to 400gsm, and can be customized to design 2oz-32oz paper cup fans. We offer single-sided and double-sided PE coatings, as well as gold and silver foil PE coatings.Dihui Paper also provides flexographic printing, offset printing, PE coated bottom roll slitting and PE coated paper sheet cross-cutting services.
We produce more than 50,000 tons of products every year, with high production efficiency, low wastage, fast delivery, and the products have quality assurance to meet your standard requirements.
The products produced by Dihui Paper are all food-grade, biodegradable, compostable, environmentally friendly, healthy and non-polluting disposable food packaging paper. We are committed to producing more environmentally friendly and healthier disposable food packaging paper. While ensuring our health, we must also protect our earth and our homeland.
We cooperated with several China leading raw paper material factories: Guangxi Jingui Pulp & Paper Co, Ltd  ( APP Paper), Stora Enso ( Guangxi Company),, Yibing Paper Industry Co.,Ltd,Guangxi Sun paper Co.,Ltd. This point guarantee that  we have stable raw material source,  good quality and competitive price.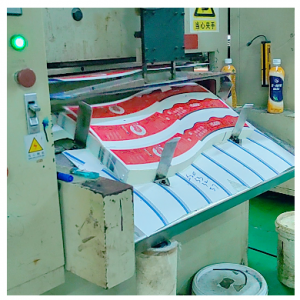 In terms of scale, there are more than 20,000 square meters of modern intelligent factory with office 2,000 and 18,000 clean workshops.
Currently the factory has 100 workers, 3 PE coating machines, 4 Flexo printing machines,10 high speed slitting machines,and 30 paper cup and bowl machines. So we can provide one stop service for raw paper, PE coated paper, paper sheet, bottom paper, and paper cup fans. Our products are widely used in restaurant, supermarket, cinema and other industries.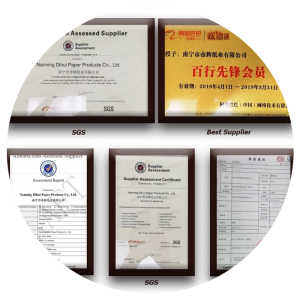 Not only we are a ISO certified factory, but also our paper products are in the  lines with the standard of FDA and SGS. And the pulp used for food grade paper is sourced from sustainable managed forests which are complied FSC Standard.
Innovation is at the core of our commitment to growing our business and making a positive impact in the world: millions dollar's investment on the innovative machinery to work out the best products for customers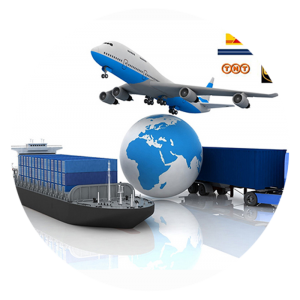 With the years of experience in exporting, our products sell well in United States, South Asia, East Asia as well as African countries.
Now Dihui paper has earned the reputation for excellent quality products, fast shipment, superior service around the world.'' Equality and mutual benefit ''is always our pursuit and goal.